BCWS works to amplify and strengthen workers' voices within the garment sector and beyond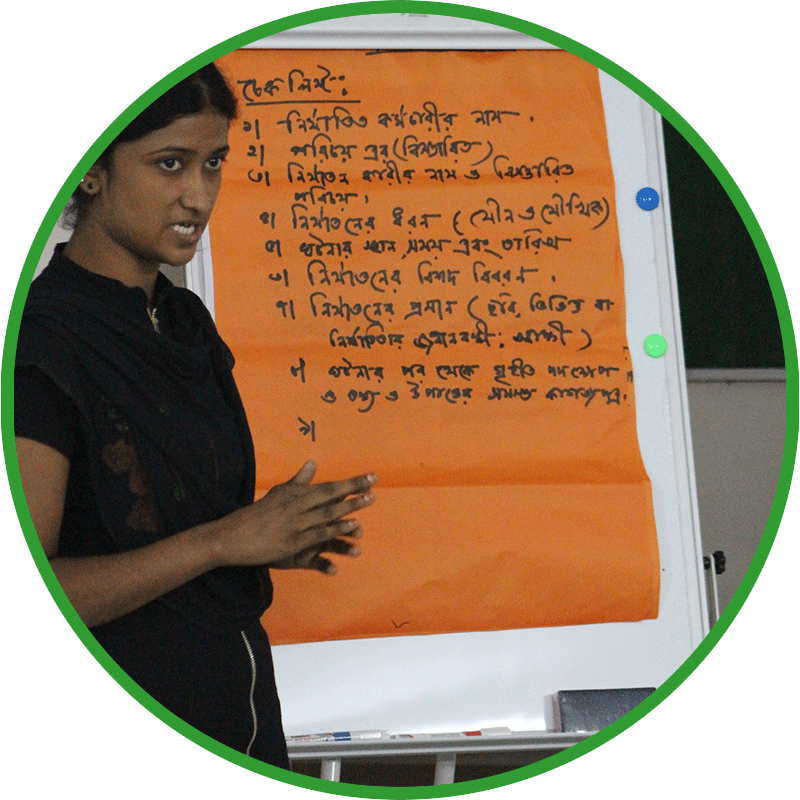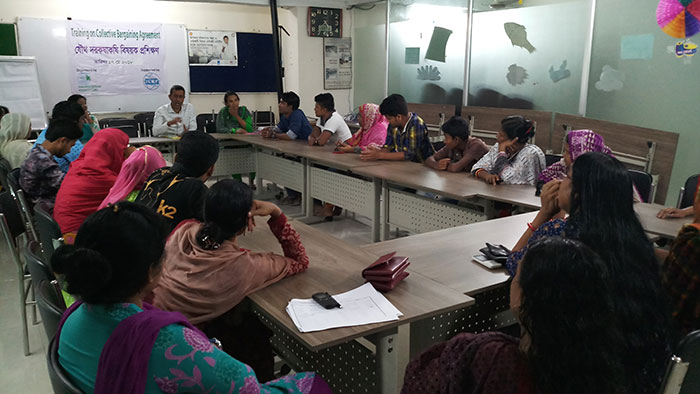 It does this through trainings on leadership development, negotiations and collective bargaining. BCWS works in partnership with union federations, especially the Bangladesh Garment and Industrial Workers Federation (BGIWF) to help train potential leaders on union organization and collective bargaining. It places a specific focus on women leaders and raising up women's voices in the negotiation process.
In addition to the garment sector, BCWS works on organizing workers and amplifying their voices in a variety of sectors such as shipbreaking and communications. In the shipbreaking sector, which has some of the most hazardous working in conditions in Bangladesh, BCWS is working to increase rights and safety awareness among workers.
In the communications sector BCWS works with both white-collar workers and blue-collar staff to develop awareness of their rights as workers. Communication sector companies where BCWS is currently working on collective organizing and unionization are: Grameen phone, Robi Axiata, CityCell and Bangla Link.
Finally, through the workers' blog (hyperlink to the blog here) BCWS creates a platform for workers to speak in their own voice about the challenges they face and how they are working to overcome them.
Case study: Young woman leader transforms working conditions at factory
Nahar is a 23-year-old garment worker at SHB Garments limited in Dhaka. Nahar took on this factory job to help support her parents and 4 sisters with the earnings.
Since starting her job, Nahar has faced several difficulties at her workplace, such as excessive overtime, factory management not following labor law regulations and workers being forced to lie during buyer visits and audits or threatened with suspension otherwise.
Nahar heard about BCWS from a coworker and decided to seek help. At BCWS she participated in labor law awareness raising training and a day-long leadership training. Through these trainings she learned about workplace safety, workers' rights and benefits of organizing and joining a union.
After finishing the trainings, she went back to the factory and shared her learnings with her coworkers. She played a vital role in encouraging 128 of her coworkers to come to BCWS and join similar trainings and workshops. Afterwards, Nahar and these colleagues formed a trade union in their factory. She was elected as the president of the union.
As the president of the union, Nahar is leading efforts to improve working conditions and motivating workers to come forward and demand their legal rights and entitlements. They are now able to raise demands to the management as a collective and force the management to give them their due. The presence of the union also makes it difficult for managers to harass, assault or dismiss workers if they protest unjust conditions.
As the president of the trade union in her factory, Nahar is not only improving conditions for fellow workers but she is also setting an example that will encourage women workers in other factories to come forward and take up leadership roles.