Campaigns, Advocacy and Networks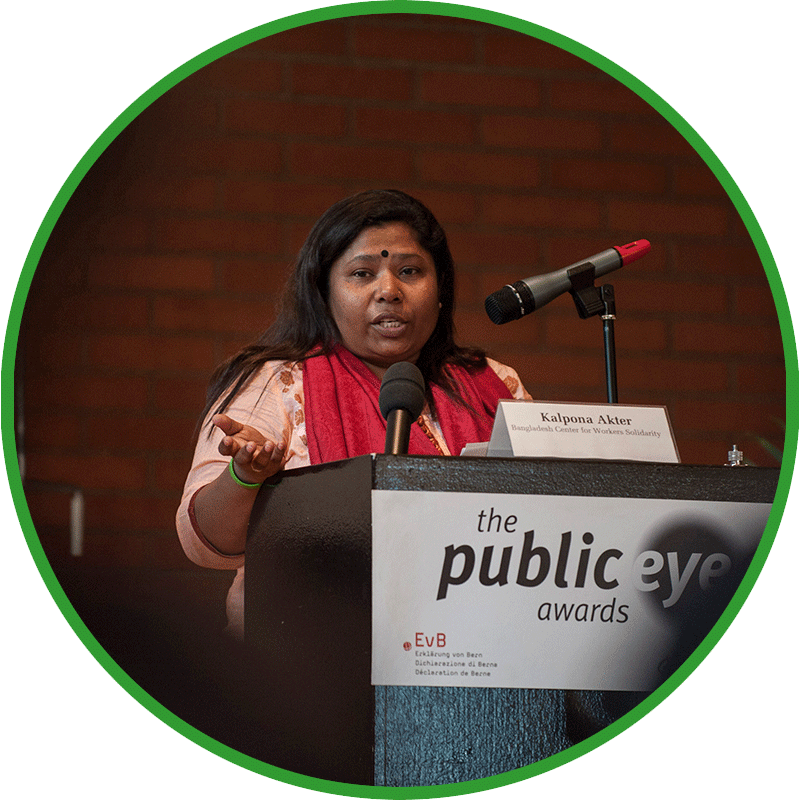 BCWS works closely with international solidarity campaigns that are raising awareness on factory conditions and treatment of workers
One of BCWS' most critical functions is to do on-the-ground evidence collection in support of international advocacy efforts. BCWS works closely with international solidarity campaigns that are raising awareness on factory conditions and treatment of workers. These campaigns rely heavily on information from workers on the ground in order to educate Western consumers about how their clothes are made and to put pressure on multinational brands to improve conditions in their supply chain.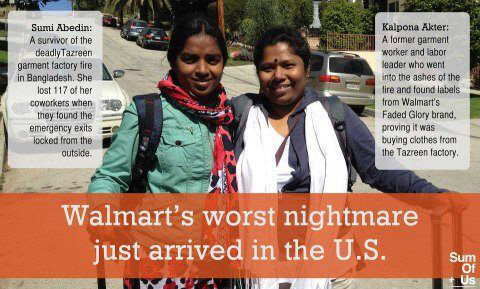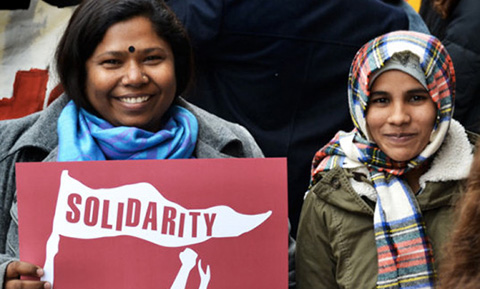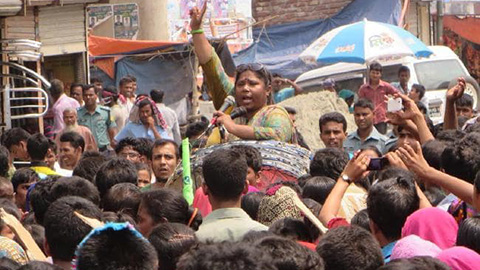 BCWS works closely with groups such as United Students Against Sweatshops, the Clean Clothes Campaign, the International Labor Rights Forum, Workers Rights Consortium and SumofUs.org and Global Unions to put public pressure on brands sourcing from Bangladesh to improve their supply chain practices. The organization's staff regularly collects information on a variety of topics including wages, hours of work and overtime, safety hazards, abuse and harassment, and living conditions, among others and this evidence has proven critical in exposing the horrific conditions under which workers live and work. By providing compelling worker testimony and images, BCWS helps bridge the gap between consumers in the Global North and workers in the Global South to create more effective and comprehensive campaigns.
In the wake of the fire at Tazreen Fashions, BCWS staffs were at the factory within a few hours and, at great risk to themselves, entered the building to photograph documents and garments that proved that Walmart, Sears/Kmart, ENYCE, Disney and others were buying from the factory. Although Walmart initially denied that Tazreen was a supplier, the photographs taken by BCWS proved that this was untrue and substantially increased public attention on Walmart over safety conditions in its factories. When Rana Plaza collapsed, BCWS immediately sent staff to the site and collected labels, factory records, and pieces of clothing to document the buyers, which included Walmart, Children's Place, JC Penney, Loblaw, Primark, United Colors of Benetton, Mango, Tesco and El Corte Ingles, among others. When news of the Rana Plaza collapse broke, not a single brand stepped forward to admit sourcing there – and it was not until the evidence collected by BCWS became public that some companies acknowledged the relationship. This has allowed international organizations to successfully hold many brands accountable for providing compensation to the victims and their families and adopting stronger and more effective safety programs. Without BCWS' on-the-ground efforts, none of this would be possible.
BCWS has played a vital role in the campaign to have international brands and retailers sign the Accord on Fire and Building Safety in Bangladesh. It is also working with the Accord and union federations to ensure that workers can use the Accord as an effective safety tool.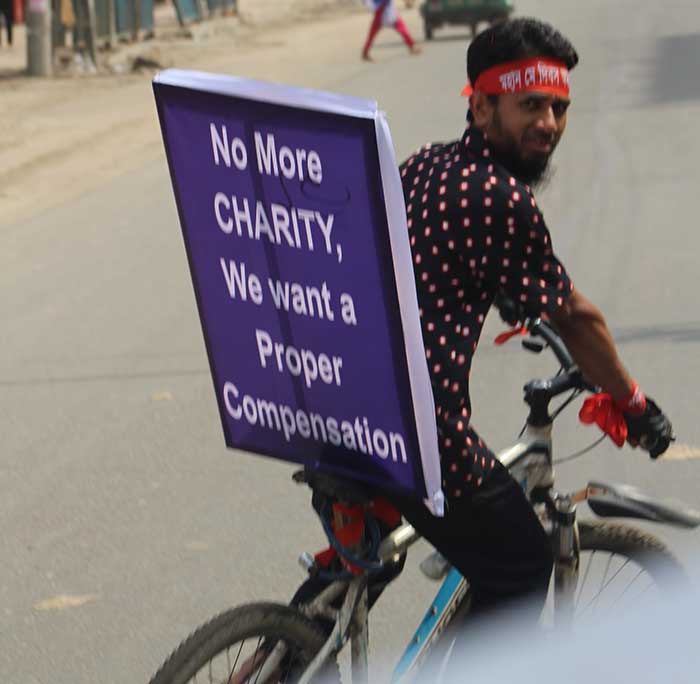 BCWS has collaborated and created a strong network with a wide range of national and international organizations.
Organizations in Bangladesh:
Bangladesh Garments &Industrial Workers Federation (BGIWF)
Bangladesh Independent Garment Workers Union Federation (BIGUF)
National Garment Workers Federation (NGWF)
Bangladesh Revolutionary Garment Workers Federation (BRGWF)
Solidarity Center-Bangladesh
Handicap International-Bangladesh
International organizations and networks:
International Laour Rights Forum
Workers' Rights Consortium (WRC)
Maquila Solidarity Network (MSN)
United Student against Sweatshop (USAS)
United Food and Commercial Workers
Public Service Alliance Canada
Our Wal-Mart
Jobs with Justice
CUPE
BC Fed
Teachers Federation
Steel Workers Union
UFCW-Canada
Nurses' Union
Clean Cloths Campaign
Labor behind the Label
IndustriALL
Uni Global and ITUC
UNIFOR