Major achievements of BCWS include:
Training thousands of garment workers in their rights under the Bangladesh Labour Law, international legal frameworks such as the ILO Conventions and apparel brand codes of conduct
A network of 93,000 solidarity members from the garment industry, other manufacturing industries, communications sector and informal sector workers
Securing the reinstatement of dozens of illegally fired workers and achieving over Tk 5,000,000 (USD 64,300) in back wages and severance payments for fired workers in 2015
Securing maternity benefits and earned leave payments for workers in several factories through successful legal action
Daycare centers established in 12 factories through worker advocacy
Advocating for apparel companies to sign the Bangladesh Accord on Fire and Building Safety
Contributing to campaigns to secure USD 30 million from apparel brands and retailers in compensation for victims of Rana Plaza building collapse
Contributing to a campaign that resulted in 70% increase in the country's minimum wage for garment workers
Achieving the dismissal of falsified criminal charges against peaceful labour leaders brought by the government and several factory owners as a result of a three-year campaign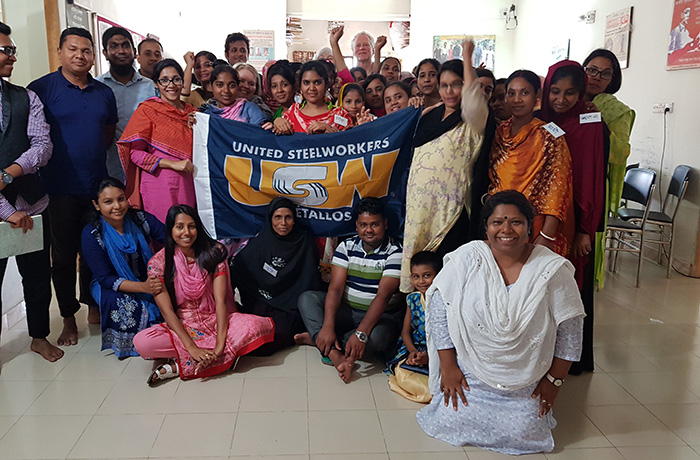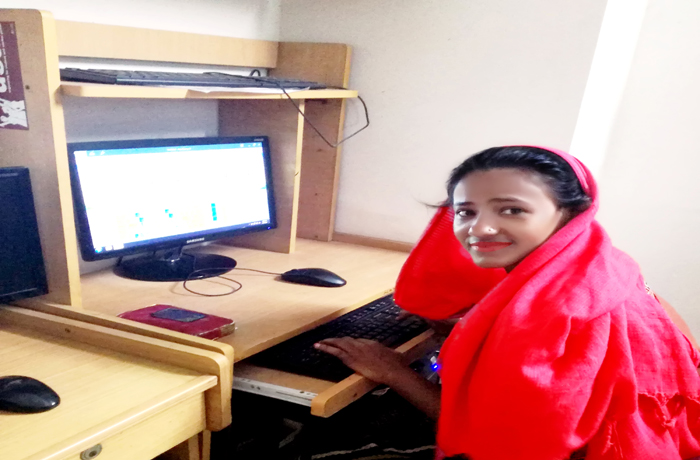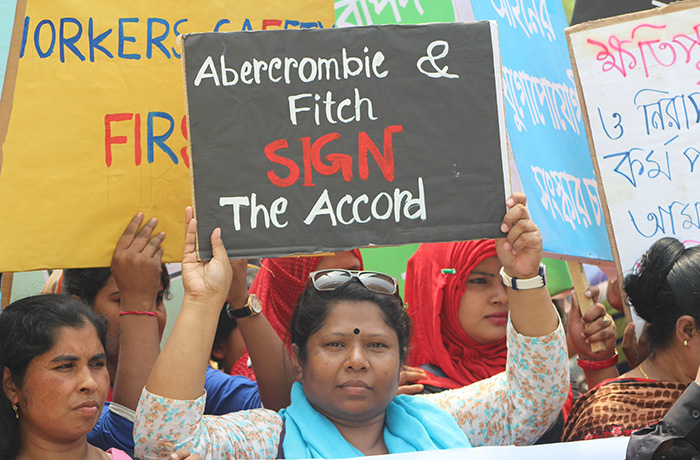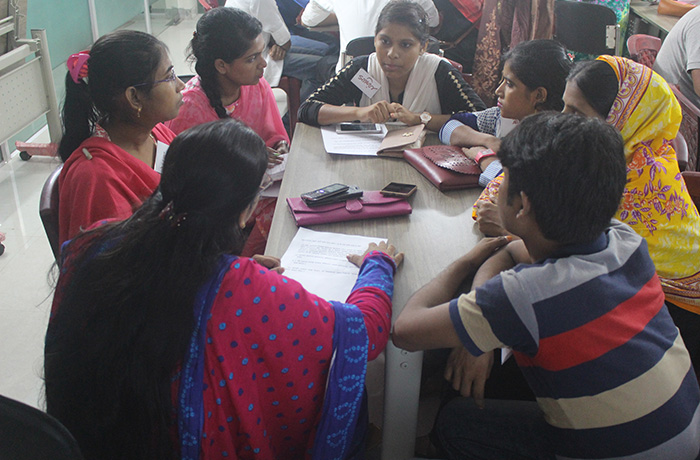 Case Study: From child worker to testifying at the German Parliament – the story of Anjum
Anjum has worked in the RMG sector for around 20 years. She started as a child worker at the age of 13 in the position of a helper. After 20 years, she is still working at the same factory as a machine operator.

There was rampant abuse of workers at the factory where Anjum works – verbal and physical abuse, heavy workload, unpaid overtime, no paid leave, lack of maternity leave and benefits and meager bonus at Eid time. One day in 2007, Anjum witnessed a machine operator being beaten by a supervisor. That was the last straw for Anjum and she decided that something needed to change. She had heard about BCWS from a colleague and decided to get in touch.
At BCWS, Anjum described the situation she and her colleagues were facing at the factory. Here, she learned about the benefits of unionization and she was advised to organize her fellow workers and submit a union application. Anjum then discussed with her coworkers and after collecting sufficient signatures they submitted a union application in 2009. However, the path to establishing a union wasn't easy. When the owner and management found out, they begged Anjum and other labour leaders to withdraw the application, promising to improve conditions. In the interest of peaceful relations, the workers withdrew the application, but management did not hold up their end of the bargain. The conditions at the factory remained dismal and harassment of labour leaders continued. Finally, after the 2013 Rana Plaza disaster, the workers decided to submit the union application again and received the registration. Anjum was elected as the President of the union.

At BCWS, Anjum received training on labour law, fire safety, unionization, negotiation and managing a union. She is now able to also teach other workers on issues such as fire and building safety. Most importantly, through her trainings Anjum developed the confidence and ability to speak up against issues and negotiate with factory owners and management.

After becoming the union President, Anjum has achieved many improvements to the working conditions in her factory. Workers are now getting their legal entitlements such as 6-month maternity leave, minimum wage, yearly increment and severance pay. Benefits such as attendance bonus and Eid bonus have also increased. Anjum is now working to establish an employer-provided insurance scheme for workers that will provide protection in the case of accidents.

In October, 2017, Anjum travelled to Germany to give testimony to the German Parliament on the Rana Plaza and Tazreen incidents. In her speech, she pointed out that just social dialogue between workers and management is not enough, buyers have a crucial role to play to protect workers. If buyers are not paying a fair price for goods to Bangladeshi manufacturers then it's not possible for wages and working conditions to improve.
In her personal life, Anjum says that her stature and profile has increased a lot in her community and especially at her village. It is known that she went to Germany to speak to important people. She is now regularly consulted for advice by the village shalish (mediation court) as people respect her opinion.
While Anjum continues to face challenges as a labour leader, and especially as a woman leader, she is confident that she can bring about more positive changes for her workplace and for workers in the garment sector as a whole.