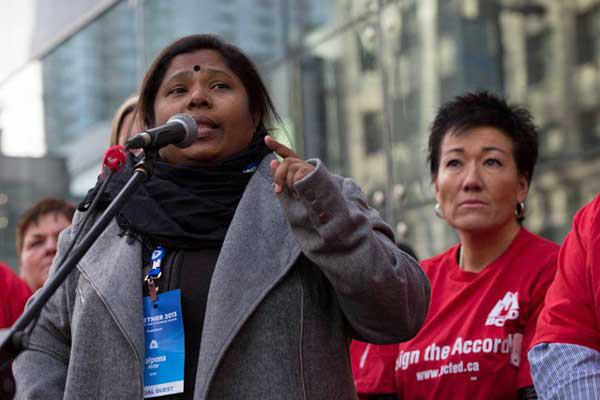 Accord on Fire and Building Safety in Bangladesh
In 2005, BCWS started a national campaign to improve factory safety, based on reports from workers of safety hazards. BCWS first sent a survey to factory owners to ascertain the safety measures in place in each factory; unsurprisingly, most did not respond. Then, in 2010, 29 workers were killed when the That's It Sportswear factory caught fire; most were forced to jump from the 11th story of the building because the factory doors were locked. This event captured international attention, and a group came together to create a new, binding agreement to ensure factory safety. After years of brands' voluntary initiatives leaving workers at risk, the group, which included BCWS, BIGUF, International Labor Rights Forum, Maquila Solidarity Network, Clean Clothes Campaign, Worker Rights Consortium and United Students Against Sweatshops. saw the need for a binding initiative. An agreement was drafted addressing fire, structural and electrical issues in the factory, with the idea that three multinational companies sourcing from Bangladesh would sign on to begin the project. No brands came voluntarily to the agreement. It took campaigning from BCWS and allies in order to get the first brands, PVH and Tchibo to agree to sign on.
Then, on April 24th, 2013, the Rana Plaza building collapsed in the greatest industrial disaster in history. The collapse killed 1,138 workers and injured more than 2,500, spurring global unions, local unions and international NGOs to push even harder for a binding safety agreement. Finally, 229 brands signed the Bangladesh Accord on Fire and Building Safety, a revolutionary agreement that has transformed the industry landscape.
Compensation for survivors of the Rana Plaza and Tazreen factory disasters
After the Rana Plaza and Tazreen factory disasters, thousands of workers were left injured, traumatized, without work and without resources. Bangladeshi law doesn't have provisions to guarantee appropriate compensation for this scale of tragedy. The campaign called for $5 million for Tazreen workers, and $30 million for Rana Plaza workers. Brands who were sourcing from Rana Plaza resisted heavily. A BCWS staff member and a Rana Plaza survivor were arrested at The Children's Place headquarters, when they attempted to meet with company leaders. After an extended international campaign by BCWS and allies, the full compensation for survivors was secured.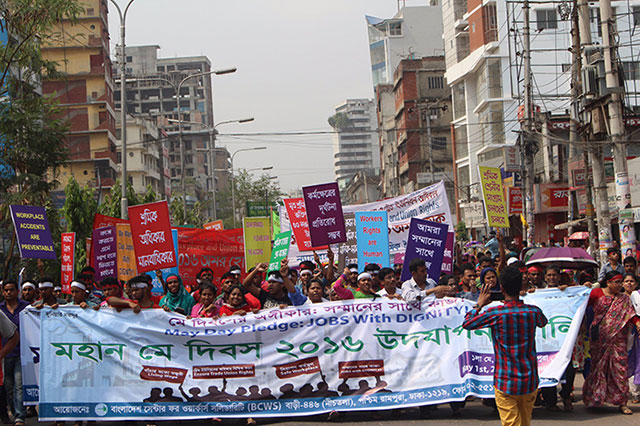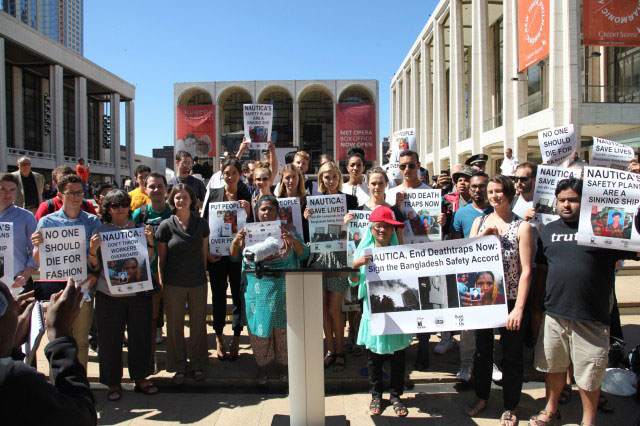 Securing functional daycare centers in garment factories
BCWS set up a model daycare center in their office, in response to requests from workers whose factories did not have proper daycare facilities. These facilities are required by Bangladeshi law, but not frequently enforced. Often, the factory will have an empty room set aside for a daycare in case of an audit, but won't staff it with daycare workers, or will use it as additional storage outside of audit times. Once, women workers began using the BCWS daycare, the Center trained women workers to advocate for the installment of a daycare in their own factories. Since then, 12 factories have now set up functional daycare centers in the factory, where women workers can leave their young children while at work.
Realization of maternity leave for workers
In Bangladesh, the law requires workers get four months of paid maternity leave. BCWS found that despite this law, a majority of factories weren't giving workers what they were entitled. While workers are entitled to maternity benefits, many were not actually receiving them. The campaign goals were to help workers understand their rights, as well as pressuring factory management to comply with the law and give workers their leave. BCWS sent upwards of 3000 letters to factories across the country, informing them of their legal obligation and offering guidance on how to implement the policy properly. In addition to the letters, BCWS created posters and brochures for workplaces, to help workers understand how they can access these maternity benefits.
Supporting efforts to increase the minimum wage
In 1994, the first minimum wage for the Bangladeshi garment sector was declared by the government at BDT 930. Although the wage level was established, it wasn't widely enforced until 2006, when workers took to the street in protest. One of the prominent demands of this protest, supported by BCWS, was the demand for both enforcement of minimum wage levels, and an increase in the minimum wage to BDT 3000. At the end of the conflict, the government agreed to raise the minimum wage to BDT 1662. Since then, BCWS has supported garment worker protests for wage increases on a regular basis. In 2010, workers protested demanding BDT 5000, and were met with significant retaliation from the government. BCWS staff members were arrested and jailed for their role in supporting the protestors. This cycle has repeated itself again in 2013 and 2016, with workers calling for higher wages and facing severe repression and retaliation. Now, BCWS is supporting workers' call for BDT 16000, enough for workers to live and support their families.